Posted by Brad Carlson on 22nd Aug 2022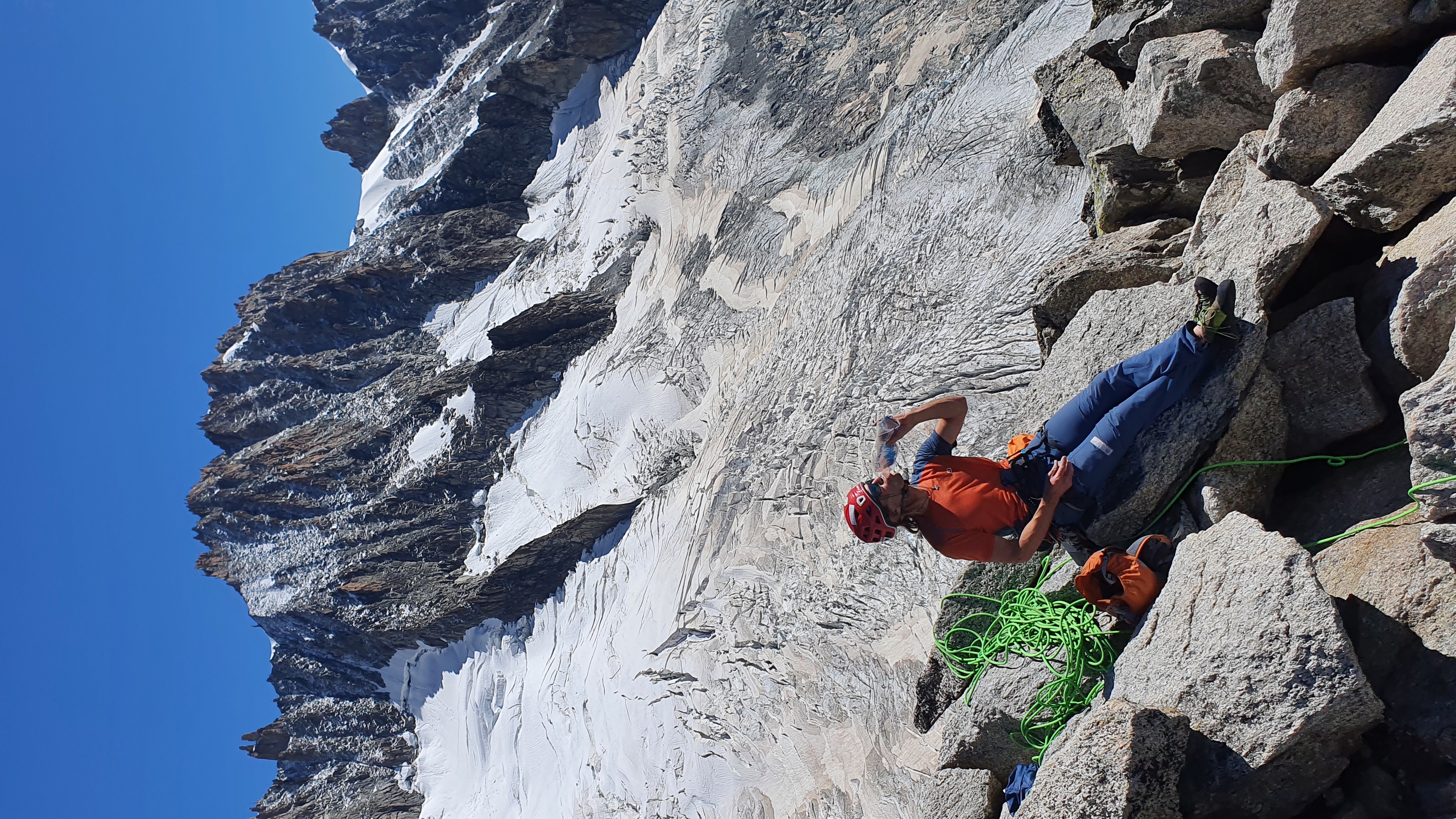 Early August 2022 brought Mountaineer Ambassador, Brad Carlson and climbing partner Kel Rossiter to Haute-Savoie, France. Here, the highest points of a sharp granite ridge to the east of the Glacier des Nantillons, the climbing team took to the Contamine route (5.10 ; 400m) on the east face of the Aiguille du Moine, situated in the heart of the Mont Blanc massif above the Couvercle hut.
It's been the absolute hottest summer on record this year in Chamonix. In general the Alps are getting rocked by climate change - unprecedented melting of snow, glaciers and permafrost on high mountain rock walls (permafrost ice is the cement that holds many of the emblematic peaks of the Alps together, picture Old Man of the Mountain on a grand scale).
Climbers coming to the Alps should know that favorable conditions for alpinism and mountaineering are moving to the months of May to June (especially for glacier travel as well as snow and mixed routes). In recent years, conditions have often become too dangerous for popular objectives from mid-July into August following intense heat waves. Having an open mind regarding objectives is key, and gathering local information is an important step prior to committing to a route especially if you are just arriving in Chamonix.
| | |
| --- | --- |
| | |
Kel, who is a fellow Vermonter spending the summer in Chamonix guiding and climbing, and I put this approach into action by choosing to climb a relatively low elevation (so less risk of rockfall due to melting permafrost). A beautiful rocky summit called the Aiguille du Moine is situated in the heart of the Mont Blanc massif above the recently renovated Couvercle hut. It is a stout 4+ hour hike to get back in there from the Montenvers Mer de Glace train station, the remote feeling and views are exceptional. I've been wanting to climb the classic Contamine route on the east face for years, and Kel was game to make it happen.
The lack of snow on the glacier meant we had to do some proper French-technique cramponing on glacial ice to reach the base of the route. Fortunately there was just enough snow left in the moat to allow us to clip the first piton (sometimes it's good to be tall!). With cold hands and sleepy forearms we climbed the first couple pitches of 5.10 to get off the glacier; followed by sunny cruising on easier 5th class terrain to the summit peppered with lovely alpine plants. The legendary summit block probably has my favorite view in the massif - right in the middle of it all! For the descent, we made our way down 1200' of scrambling with some devious route finding to get back down to the glacier via the south face, followed by a long walk back to Chamonix!